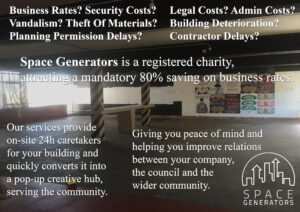 The Model – using the Business rates relief framework, we ask the property owner for a contribution towards the community project running costs. This helps to provide a solid financial footing for the project start up costs.Thus allowing  the project to become self funding through events and space hire.
Flexible Interim arrangements
The whole project is designed to be flexible, therefore, we can move from site to site quickly and easily. Buildings can be utilised for up to 6 months to a year or more. "Roll in roll out" Solutions.
During the interim period before development we can fill the space with a variety of events and workshops. At the end of the agreed meanwhile lease, we will return your property fully vacated.
There are over 1 million empty buildings in the UK that should be used for short or long term meanwhile lease community use.
We have worked with the GLA to insert into the London plan a section about meanwhile lease use by developers – 
"Boroughs are encouraged to identify opportunities for the meanwhile use of sites ……. to make efficient use of land while it is awaiting longer-term development."
https://www.london.gov.uk/what-we-do/planning/london-plan/new-london-plan/draft-new-london-plan/chapter-4-housing/policy-h4-meanwhile-use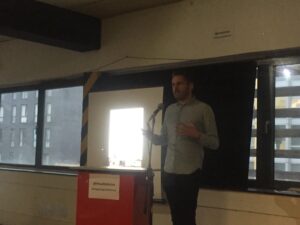 Tom Copley member of the London Assembly – Chair of the Housing Committee – speaks at Hive Dalston Conference on reuse of community spaces.
Charitable Objectives
At no cost to you, our solution enriches the lives of local residents:
Providing management of vacant buildings for use as community hubs.
Advance and encourage education / employment and training for the public.
By helping to Guide and advise others in the creation of workshops, events and individual project start-ups, encouraging the furtherance of this model of property reuse for local communities.